AEC greatly appreciates all your feedback. Please visit our comment page to read more comments, or visit our survey page to take our survey and leave a comment.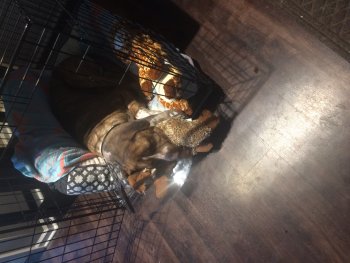 Floyd
Floyd
04/10/18 - AEC Novi
Our 15 month old pup, Floyd, underwent emergency abdominal surgery at AEC to remove a blockage caused from him chewing/swallowing large piece of leather from a snow boot. We had taken Floyd to our family vet after he stopped eating and continually vomited on/off for several hours throughout the day; our family vet ran some tests but recommended emergency surgery at AEC. It was such a scary experience to see Floyd in so much pain and discomfort; it was truly heartbreaking. Thank you so much to Dr. Collins and her team for taking such good care of Floyd. Within a couple hours of bringing him to AEC, Floyd was admitted to the hospital and Dr. Collins performed the blockage removal surgery. She successfully removed the leather piece, and called my boyfriend and I a few hours later (as she promised) with an update. AEC monitored Floyd for the next 24-36 hours to make sure he was recovering well and that his appetite returned. The staff did a wonderful job keeping us updated and never seemed bothered by our questions and anxiety!
The only negative comment we have is that we waited for over 90 minutes in the exam room upon arrival. This was very concerning since our family vet had contacted AEC right away to tell AEC we were on our way with Floyd and that this was an emergent case. Still unsure why we were not seen sooner, but thankfully things turned out ok.
- Caroline S. [Avg. Score: 4.3
]